"MiVana" The Taste of Sustainability
Every cup of "MiVana" is filled with the best quality organic coffee bean which is established from the intention to produce the best quality with full flavored coffee from the organic agriculture, harmonizing the philosophy to balance, preserve, and restore the fertility of watershed forests with farmers' better living and sustainability of the community. Starting with coffee tree growing, then the coffee's cherry is nurtured until ripe under plentiful natural environment. For the delicate processing, it will be done, according to the organic agriculture process without any chemicals, within 24 hours to preserve the highest quality of nature in those coffee beans. The excellent organic coffee beans then will be nicely selected and passed to the roasting professionals. With secret recipe of the roaster, "MiVana Organic Forest Coffee" is outstanding with floral and fruity aroma. However, the taste is still rich with unique full-flavor to expand the happiness of growers in the forests through pleasing scent in every meaningful cup of MiVana in your hand.
Processing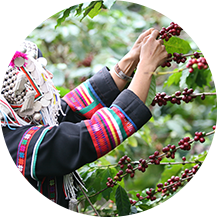 When the coffee ripens, each red bean is carefully hand-picked.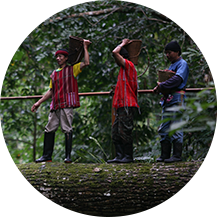 After picking, the beans are processed within 24 hours to preserve their freshness and natural goodness.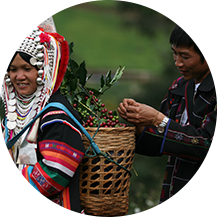 The beans are inspected by seasoned experts for consistency of color, size, aroma and flavor to ensure that MiVana coffee meets the highest international standards of quality.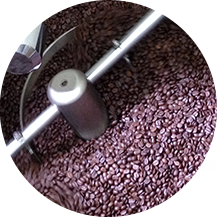 Then the beans are carefully roasted by roasters with SCAA (the Specialty Coffee Association of America) training – a boast that only MiVana Coffee can make among growers in Thailand.
MiVana Organic Forest Coffee
MiVana Organic Forest Coffee encourages all stakeholders throughout the value chain to preserve and improve the condition of watershed forests collaborately. MiVana delivers meaningful cup from sustainable crops that truly help contributing to the long-term economic health of farmers and local communities in rural Thailand and promoting sustainable use of the region's precious natural resources.
Thank you for supporting our social mission to bring happiness back to the watershed forests and local communities through a meaningful cup of MiVana Organic Forest Coffee.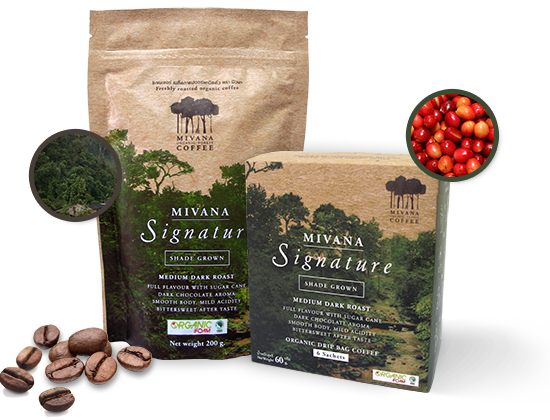 Shop